Instructions on DDA Recurring Deposit
1. What is DDA Recurring Deposit?
Direct Debit Authorisation ("DDA") Recurring Deposit is a tool provided by Tiger for scheduling deposits at specific intervals. After linking your Tiger Securities account with your DBS/POSB account, you can set up a DDA recurring deposit plan, which will be executed by Tiger.
2. How to set up a Recurring DDA Deposit?
2.1 Go to the【Deposit】page and select【DDA】. If you need to set up a recurring deposit, select the drop-down box under 【Recurring Deposit Frequency】and choose the frequency for the recurring deposit.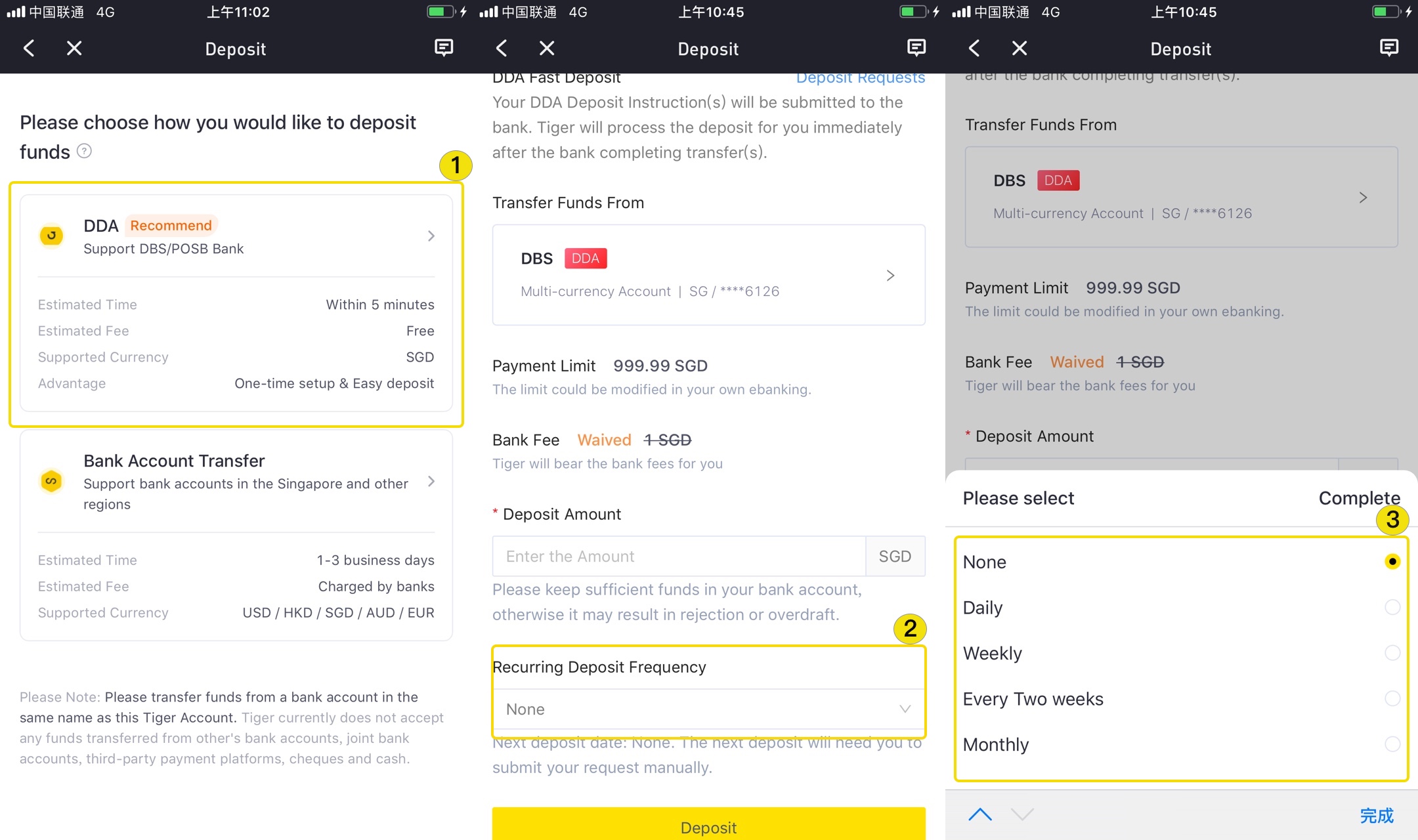 Note
:
Before setting up DDA Recurring Deposit, please ensure that you have completed the set up of DDA (this step is required only for the first DDA deposit). If not, please enable DDA first by referring to
DBS/POSB DDA Authorisation Guideline
.
2.2
After setting the time, please enter your Tiger account login password and submit it for verification to complete the DDA Recurring Deposit setup.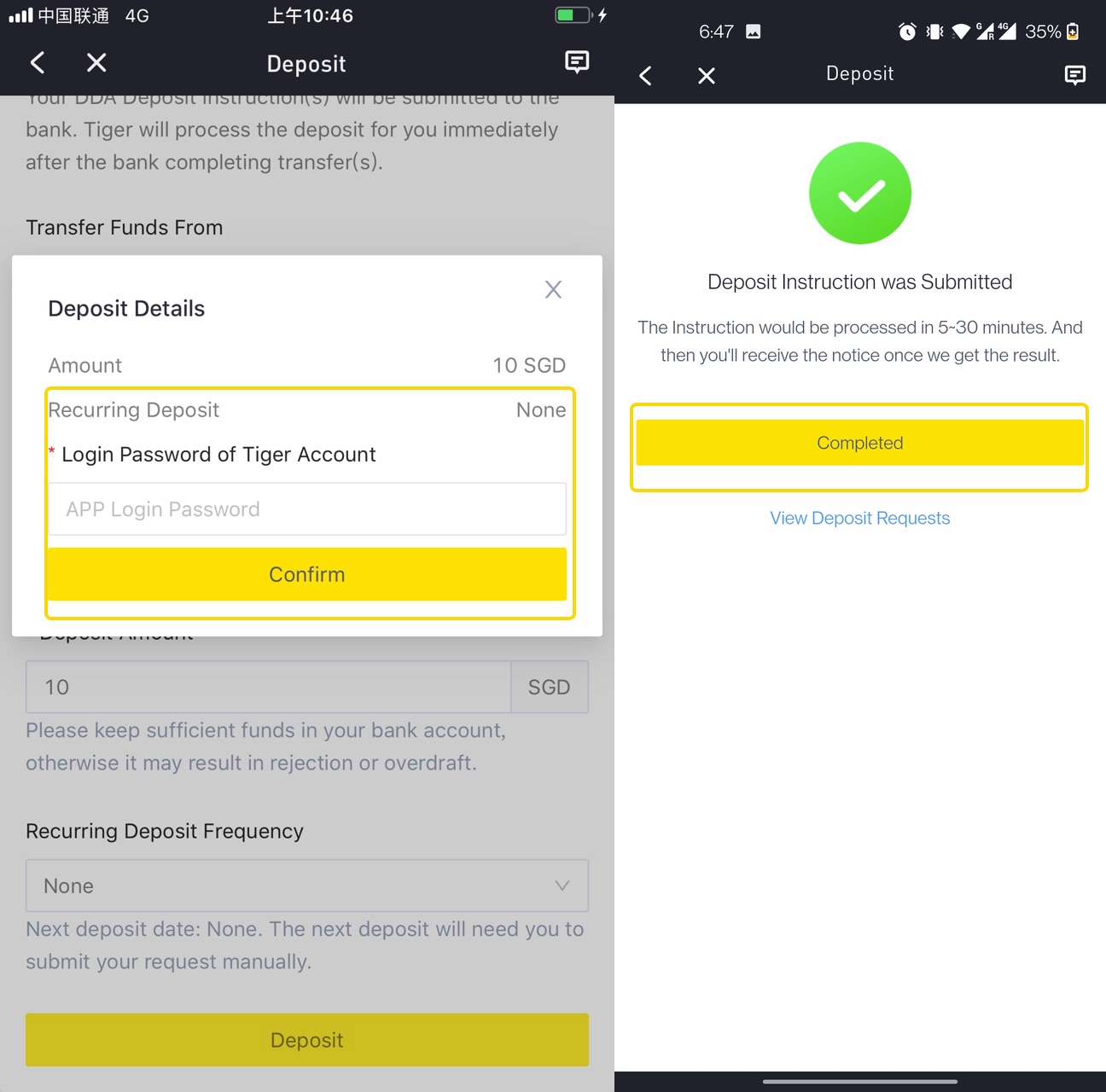 3. How to stop DDA Recurring Deposit?
3.1
If you need to stop DDA Recurring Deposit, please follow the following instructions:
Select 【Deposit】-【DDA】-【Deposit Request】-【Recurring Deposit Frequency】, then enter the Recurring Deposit History setting page.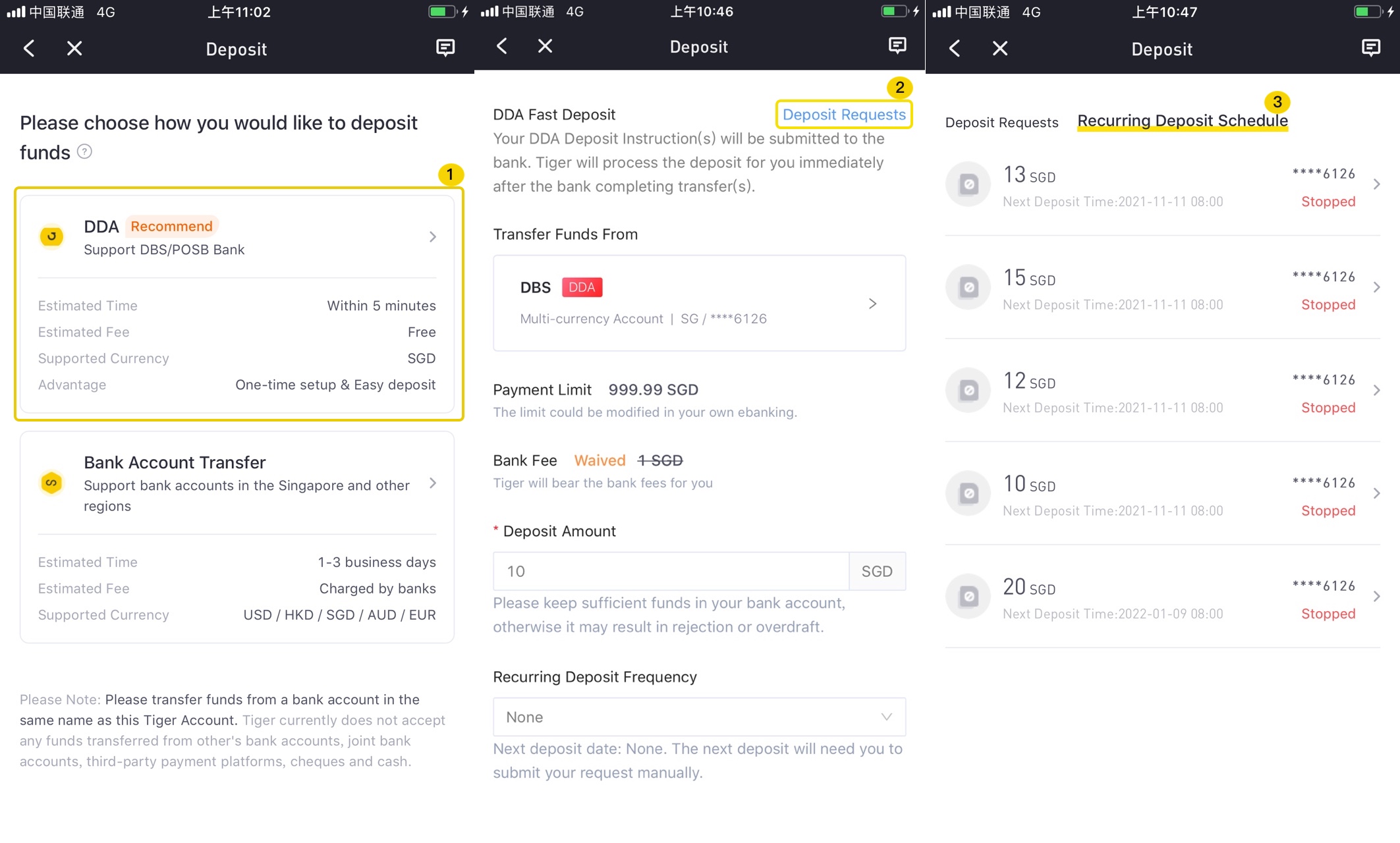 3.2
Select history DDA setting, and two icons will be displayed in the upper right corner of the page: the left one is for "modify" and the right one is for "stop". After clicking the 【stop】 icon, there will be a confirmation prompt. After you click 【Confirm】, the DDA Recurring Deposit will be successfully stopped.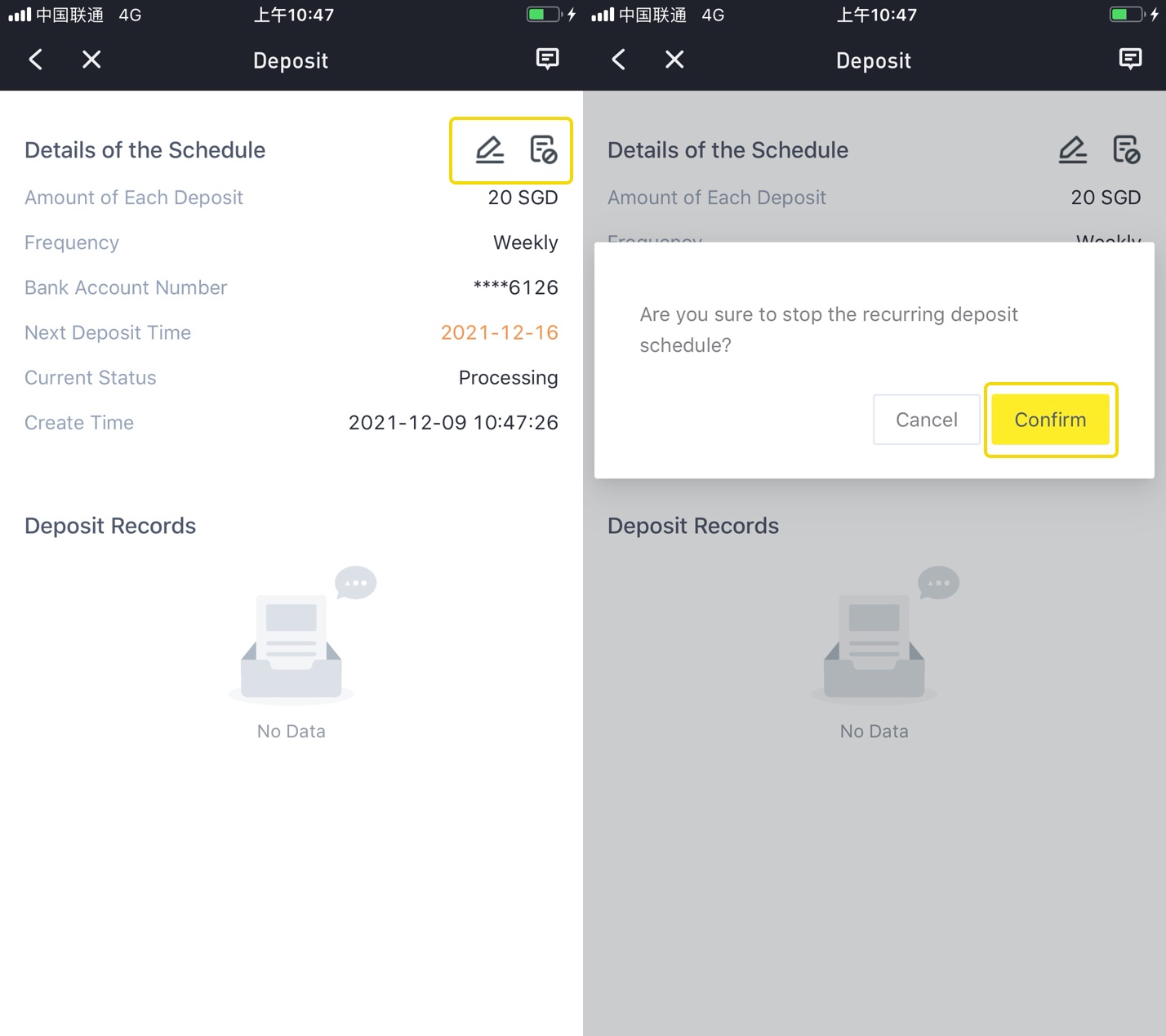 4. Time of receipt, Transaction limit and Supported currency
4.1 The system will execute the scheduled deposit for you at 8:00 a.m. on the due day according to the period you set, and the deposit will be received within 5 minutes.
4.2 The maximum amount for one single DDA recurring deposit is SGD 200K, and the minimum amount is SGD 10.
4.3 DDA only supports transactions in Singapore Dollars.
5. DDA Recurring Deposit Transaction Fees
Free of charge
---
Disclaimer:
1. Tiger Brokers does not accept deposits from joint accounts and accounts with a different name from that registered on the clients' Tiger account.
2. The bank may reject your funding instructions due to insufficient account balance and other reasons, which may result in a failed deposit. Should the bank accept your deposit when you have insufficient funds in your account, your account may incur fees.
3. Tiger Brokers only accepts deposit instructions submitted through the Tiger official website/APP. Tiger will submit your instructions to the bank, and the bank will complete the deposit for you.
4. The screenshots of the bank page in the above guidelines are shared by Tiger Brokers clients and are for reference only. If there is any discrepancy in the screenshot page, please refer to the actual website or contact Tiger's customer service. Tiger shall not be liable for any loss caused by this instruction.