DBS/POSB DDA Authentication Guideline
DDA (Direct Debit Authentication) fast deposit is a system service provided by DBS Bank. After connecting your Tiger account with your DBS/POSB account, you can initiate a deposit instruction directly in Tiger, and the bank will execute the deposit for you. DDA Fast Deposit is more convenient than other SGD deposit methods. The main advantages are as follows:
Free: Both DDA authentication and deposit are free. (Tiger will bear relevant bank fees for you. Please refer to our official website page for details.)
Speed: Funds are expected to arrive in several minutes during business days. There may be a delay if you deposit outside of business days.
Convenience: Deposit instructions could be submitted via the Tiger Trade APP/official website. There is no need to login to your bank and no need to submit a deposit notice.
DDA Fast Deposit can be completed in two steps:
1. Setup the connection between your DBS/POSB account and your Tiger account, and complete a DDA authentication. (Only required when you deposit through DDA for the first time)
2. Submit a DDA fast deposit instruction at Tiger.
---
DBS/POSB DDA Deposit Guideline
1. DBS/POSB DDA Authentication
Please note: Please avoid submitting the authentication application between 00:00-00:30 and 22:07-22:11 (UTC+8). Due to bank system maintenance or other reasons, the authentication application submitted during this period may fail. If it fails, please try to submit again outside of this period.
Please see an example on the Tiger Trade APP:
1.1 Log into your Tiger account, click "Trade"-"Deposit", select "Deposit with SGD"-"DBS/POSB-DDA Deposit".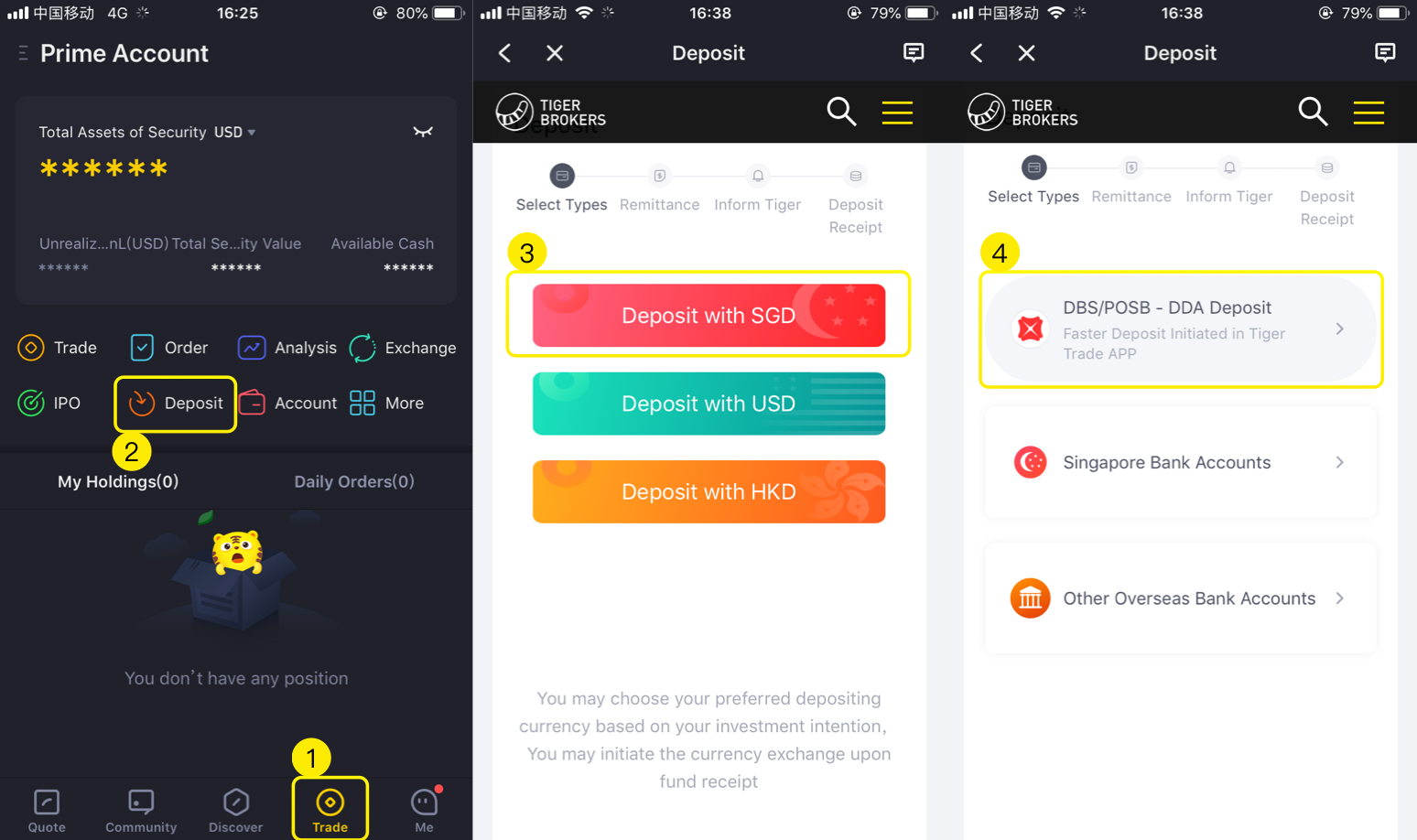 1.2 Click "Start to Setup the DDA Connection"-"Let's go" to start the account authentication, and you will be redirected to the official DBS/POSB online banking page.
Please note: The authentication will be completed by visiting the official DBS/POSB online banking page, Tiger Brokers will not obtain your bank account information.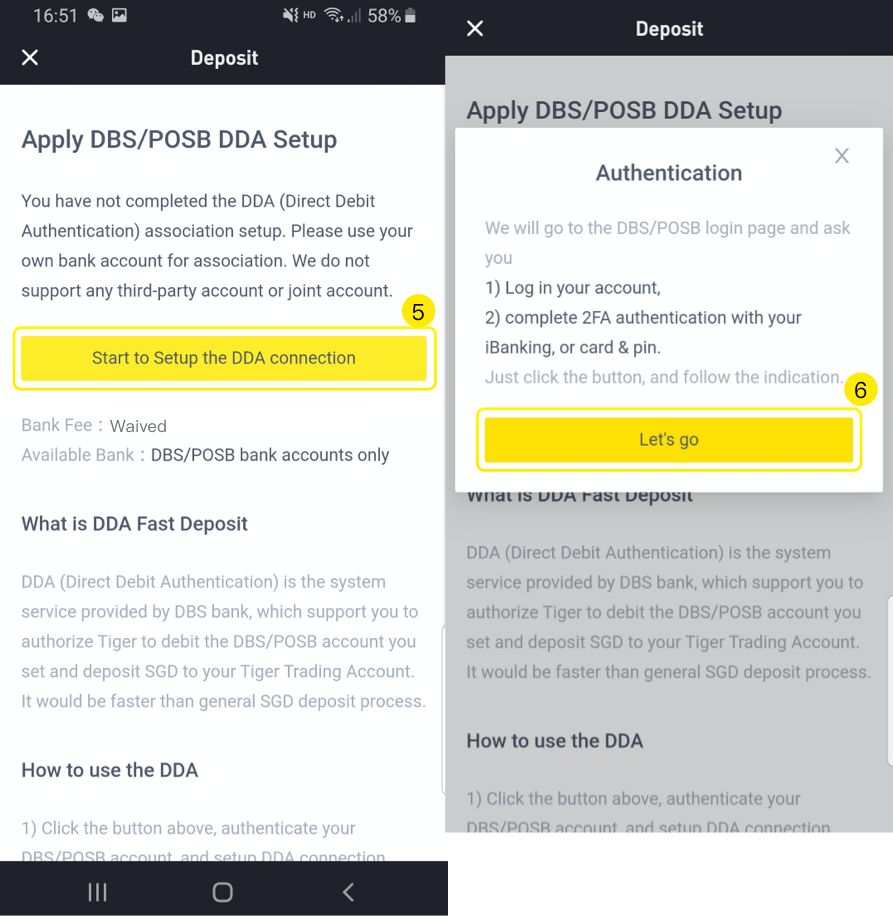 1.3 Log into your DBS account via "My Digibank Login" or "Card & PIN", then verify your identity (SMS is recommended), and click "Authenticate" to complete identity verification.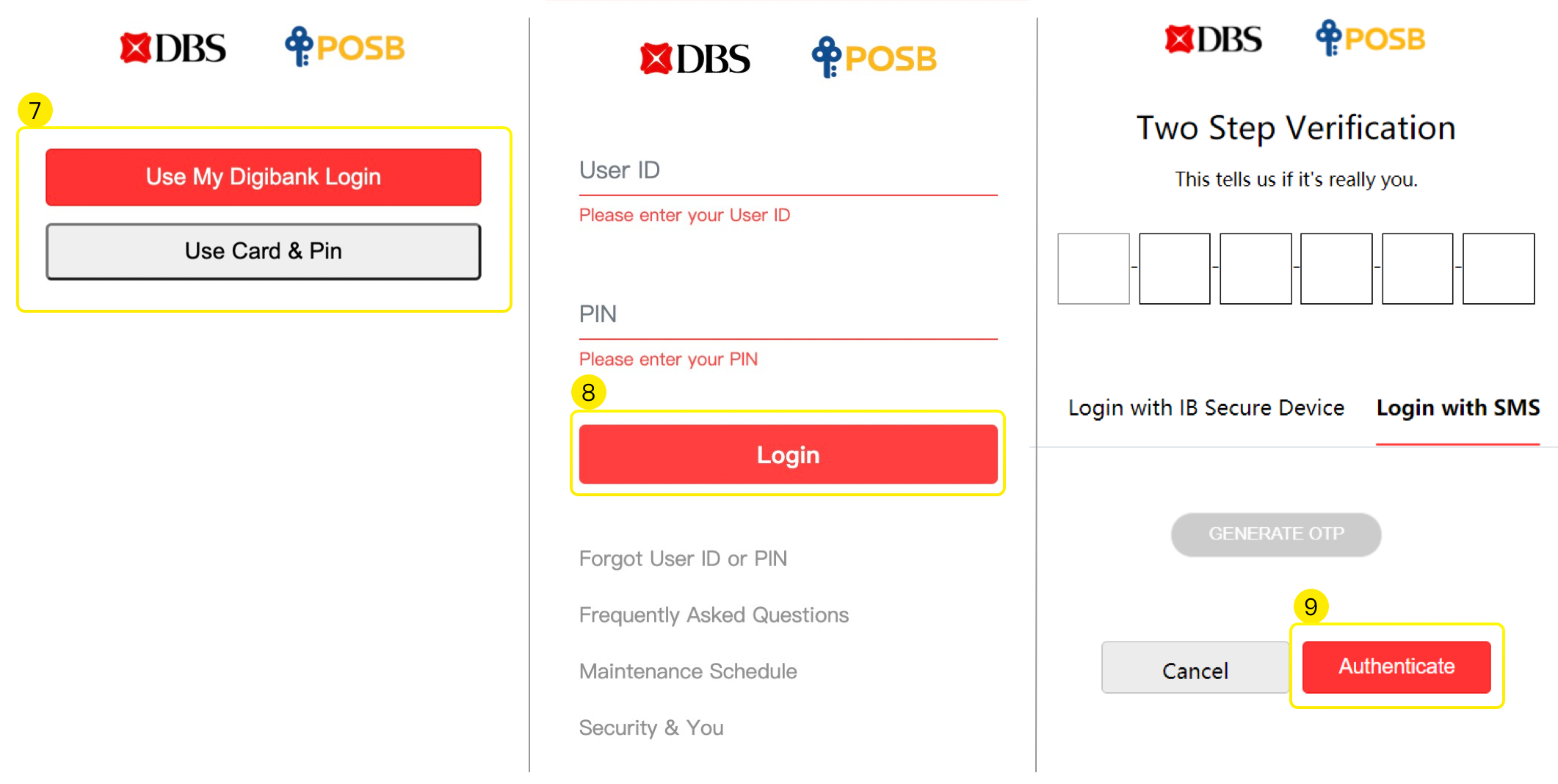 1.4 You will automatically be redirected back to Tiger Brokers' interface. Please select a DBS account for deposit, confirm your acceptance of the agreement and click "Confirm and Submit" to submit the authentication.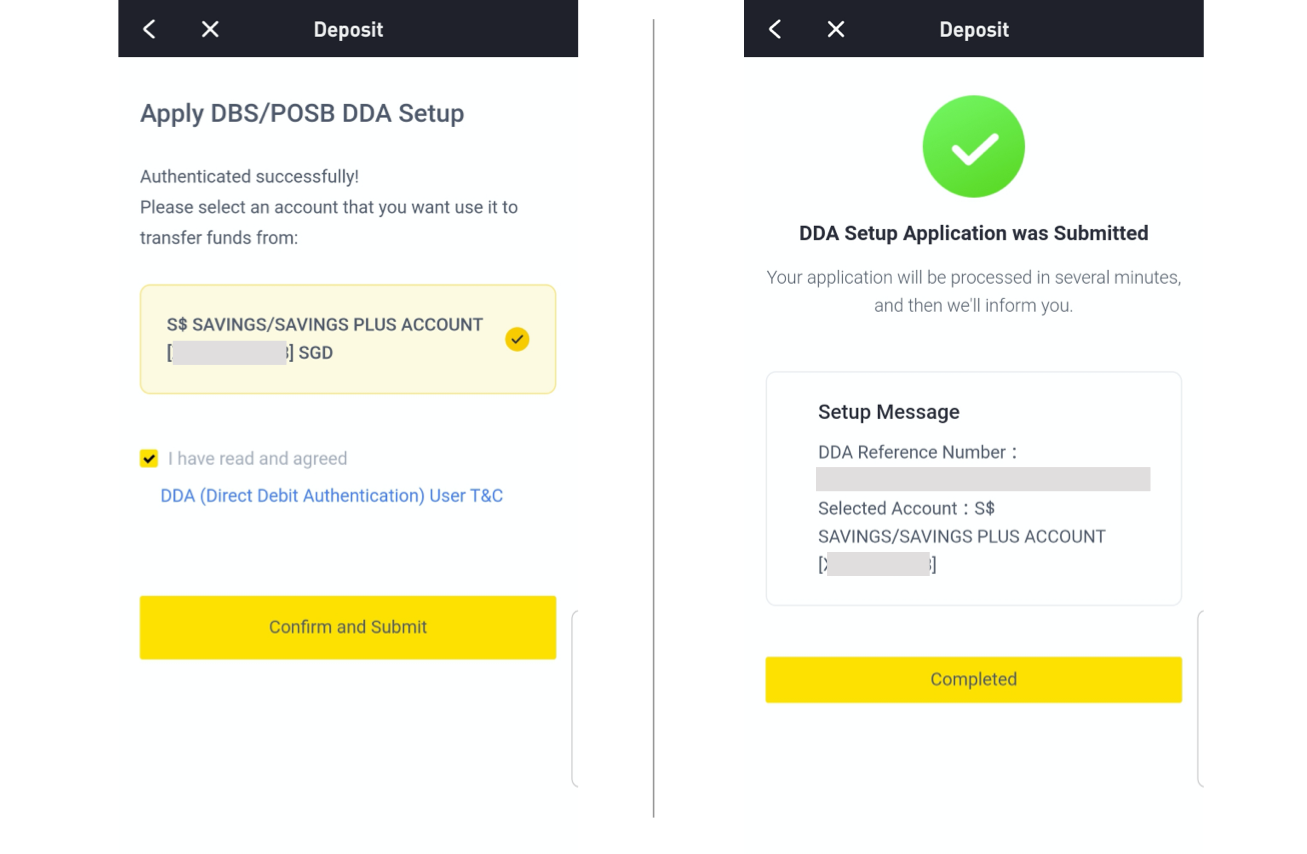 1.5 You have completed the account authentication. The authentication result will be sent to your registered mailbox and a notification will be sent in the APP. After successful authentication, you can easily use DDA to make transfers.
2. Submit A Deposit Instruction
---
Tips:
1. Tiger Brokers does not accept deposits from joint accounts and accounts from that registered on the Tiger account.
2. The bank may reject your deposit instructions due to insufficient account balance and other reasons, which may result in a failed deposit. Should the bank accept your deposit instructions when you have insufficient funds in your account, your account may incur overdraft and relevant fees;
3. Tiger Brokers only accepts deposit instructions submitted through the Tiger official website/APP. Tiger will submit your instructions to the bank, and the bank will complete the deposit for you;
4. The screenshots of the bank page in the above guidelines are shared by Tiger Brokers clients and are for reference only. If there is any discrepancy in the screenshot page, please refer to the actual website of the bank or contact Tiger's customer service.