1. What are Tiger Coins?
Tiger Coins are reward points launched by Tiger Brokers, which may be redeemed for different rewards on the Tiger Trade APP.
2. Where can I find Tiger Coins?
You may find Tiger Coins via [Tiger Trade APP > Me > Tiger Coins].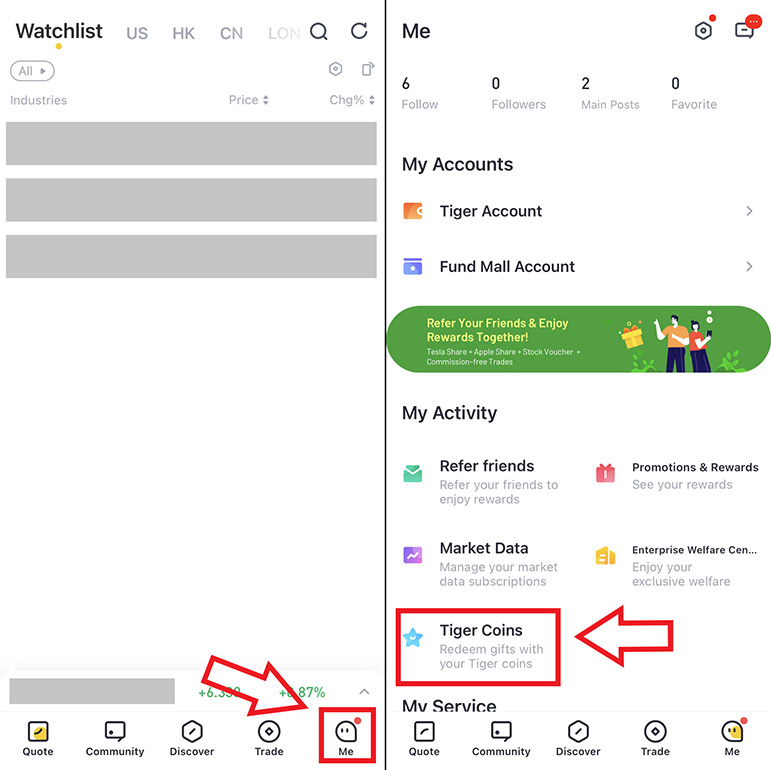 3. How do I earn Tiger Coins?
(1) Daily Clock in
Open the Tiger Coins page daily to automatically earn Tiger Coins. There are more coins to be earned during the weekends so be sure to clock in!
(2) Daily Missions
Complete our list of Daily Missions which refreshes daily at 00:00 (Singapore time). Each completed Daily Mission earns you Tiger Coins.
(3) Achievement Missions
An Achievement Mission can only be completed once. These Achievement Missions earn you a larger amount of Tiger Coins.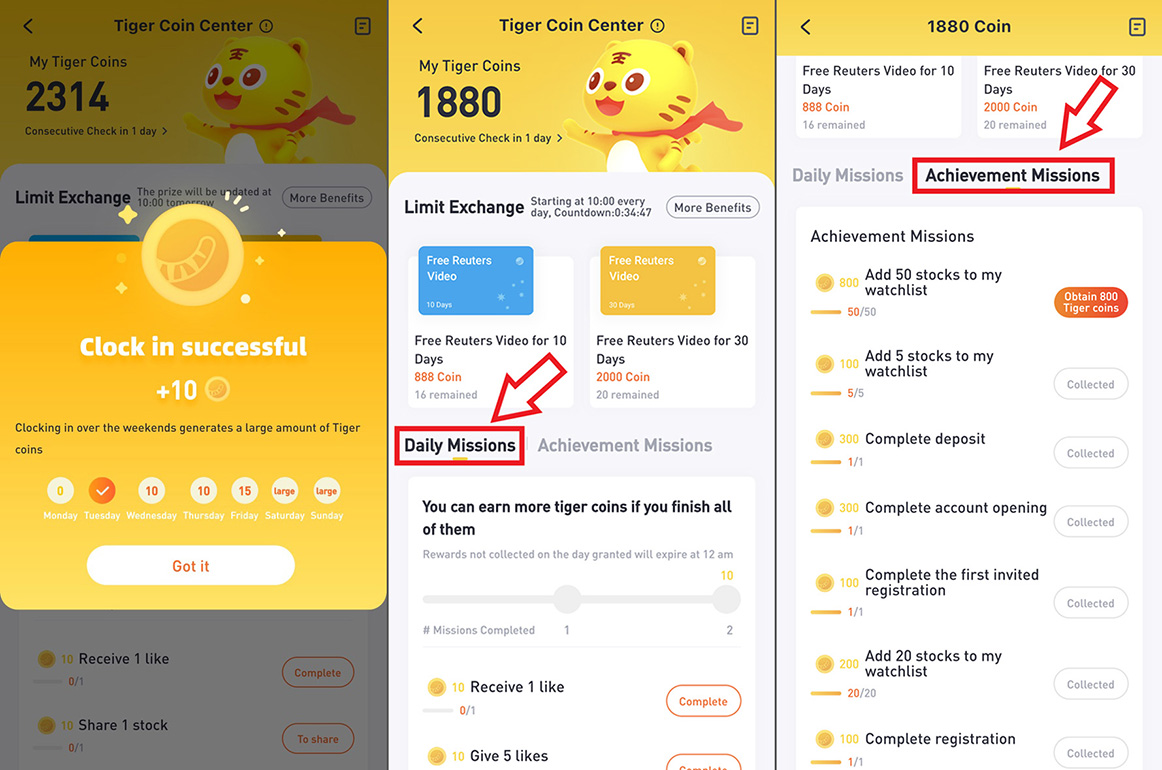 4. What can I use Tiger Coins for?
Tiger Coins can be used to redeem rewards on the Tiger Trade APP. Rewards include, but are not limited to, Stock Vouchers, Commission-Free Trades, Free Reuters Videos, etc. Tiger Brokers is looking to launch more redeemable rewards. Do keep a lookout for more attractive rewards!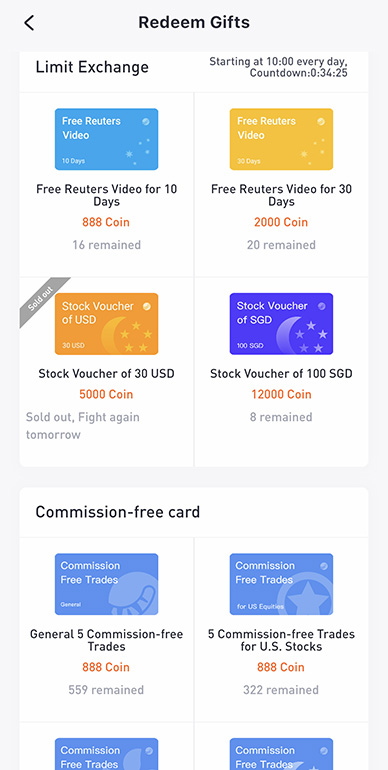 5. How do I redeem rewards with my Tiger Coins?
You may redeem rewards through the Tiger Trade APP: [Me > Tiger Coins > More Benefits].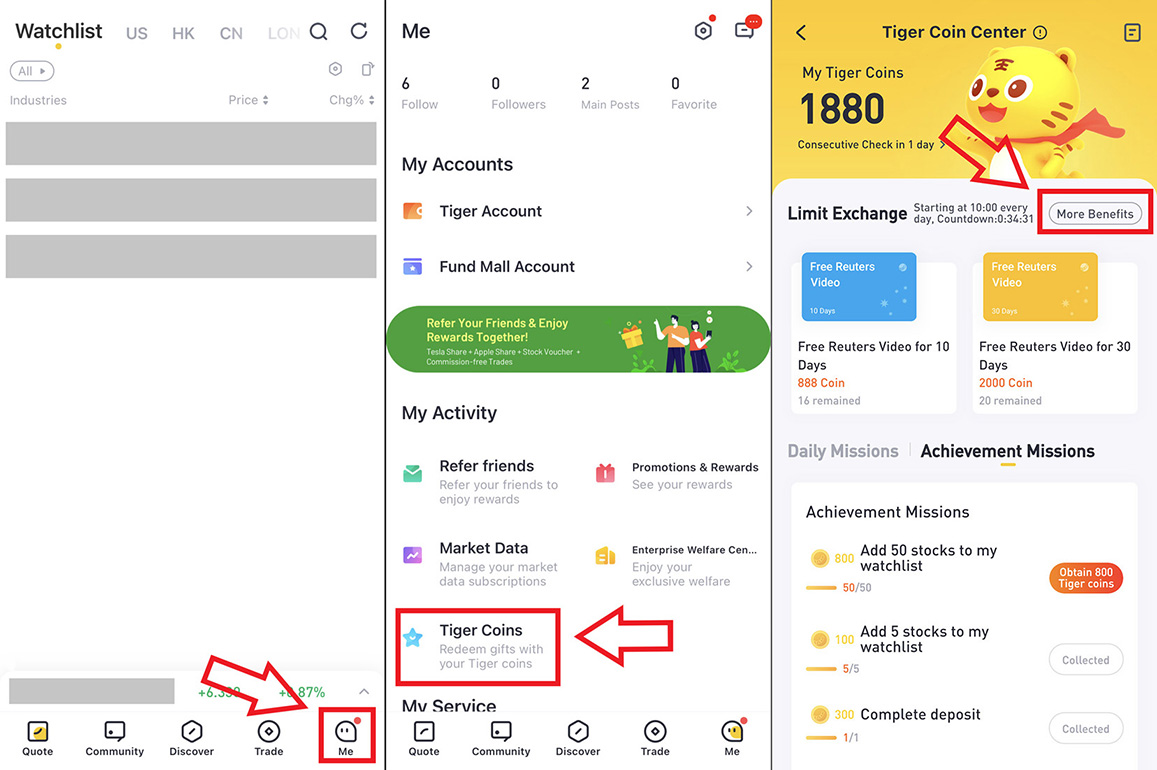 The redeemed rewards will be delivered within 15 calendar days (excl. public holidays). After the delivery, do remember to "Collect" the redeemed rewards in your Tiger Trade APP: [Me > Promotions & Rewards].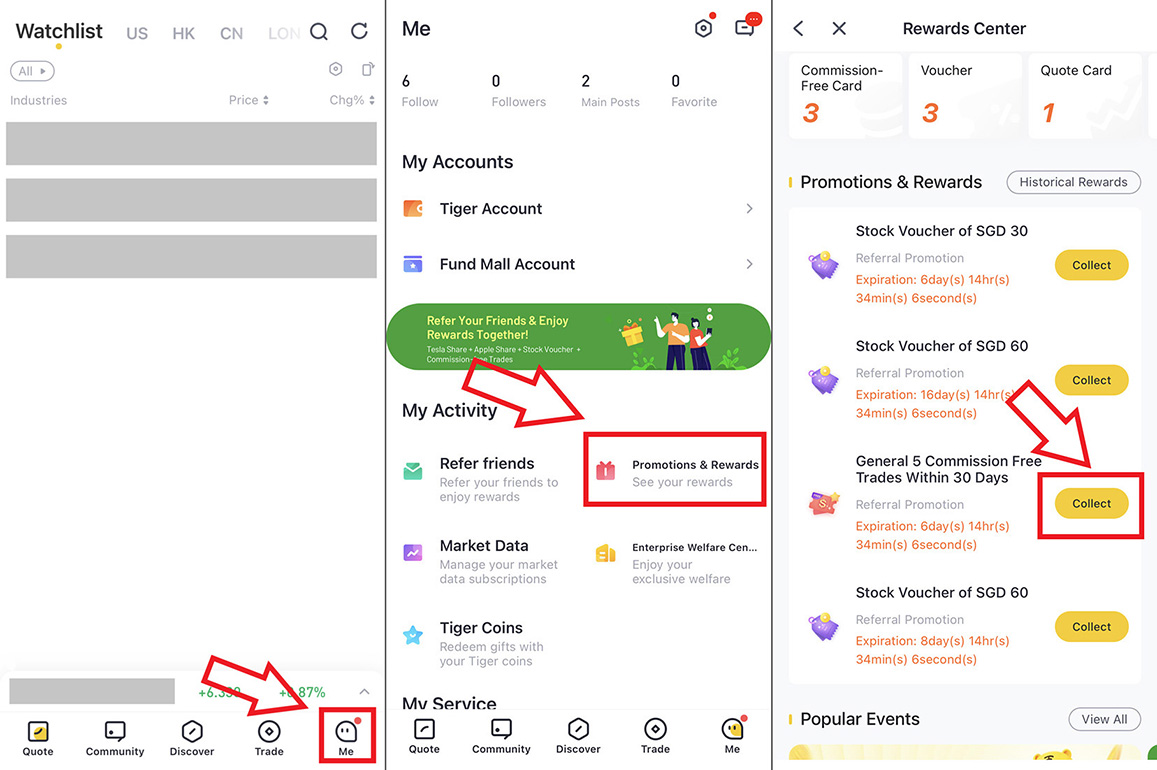 6. Will my Tiger Coins expire?
Tiger Conis validity period: from the next day the Tiger Coins are collected to 31st December of the following calendar year. For example, if you collect your Tiger Coins on 3rd March 2021, your Tiger Coins are valid until 31st December 2022. Your Tiger Coins will be utilised in the order they are earned.
7. How do I track the utilization of my Tiger Coins?
You may check your Tiger Coins statement on the Tiger Trade APP: [Me > Tiger Coins > Statement Icon on the top right of the page].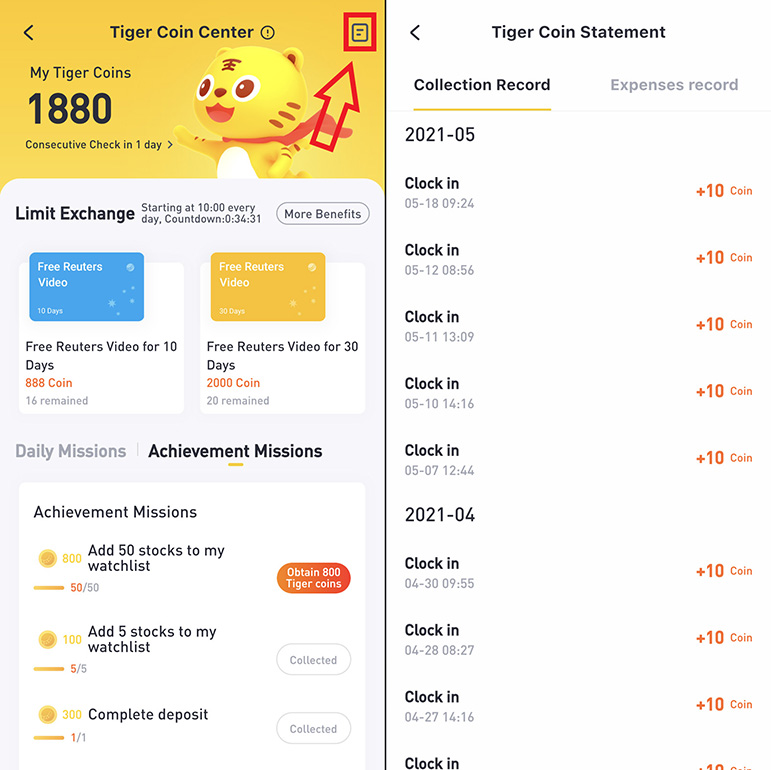 8. Can I transfer my Tiger Coins or convert them to cash?
Tiger Coins cannot be transferred to other Tiger Accounts or converted to cash. They can only be used to redeem rewards on the Tiger Trade APP.
Disclaimer: Tiger Brokers (Singapore) Pte Ltd ("TBSPL") reserves the rights to change any terms and conditions without prior notice. In case of any dispute, TBSPL reserves the rights to make the final decision. The information expressed herein is current and does not constitute an offer, recommendation or solicitation, nor does it constitute any prediction of likely future stock performance. Investment involves risk. The price of investment instruments can and do fluctuate, and any individual instrument may experience upward or downward movements, and under certain circumstances may even become valueless. Past performance is not a guarantee of future results. In preparing this information, we did not take into account the investment objectives, financial situation or particular needs of any person or affiliated companies. Before making an investment decision, you should speak to a financial adviser to consider whether this information is appropriate to your needs, objectives and circumstances. Tiger Brokers assumes no fiduciary responsibility or liability for any consequences financial or otherwise arising from trading in securities if opinions and information in this document may be relied upon.