Contest Period: 3rd December 2021 to 10th January 2022 16:00 SGT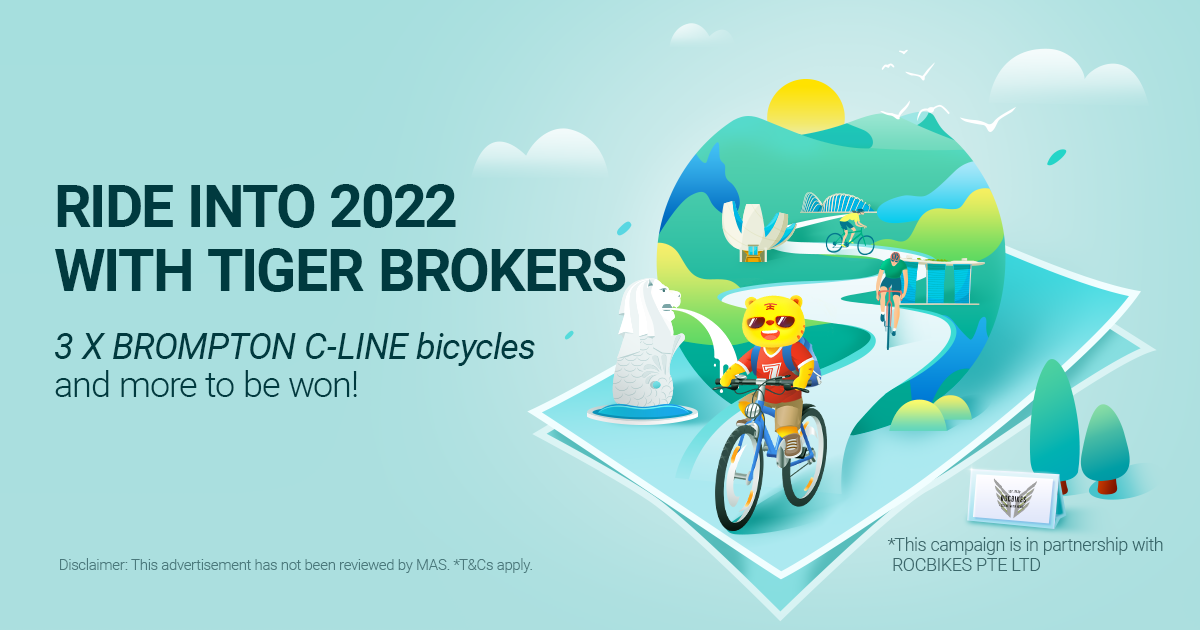 Season's Greetings! Are you planning to cycle with your family and friends during this festive period?
Good News! Calling out to all cycling enthusiasts and leisure cyclists! Ride into 2022 with Tiger Brokers (Singapore) by participating in our Facebook contest and stand a chance to win the LATEST BROMPTON C-LINE bicycle and more!
It's the season of giving and we would like to share this joy with you and our Tiger Trade family as we ride into 2022!
Excited? Join us in this contest with prizes (worth more than SGD10,000) to be won* and share this great news to your family and friends!
What are the prizes?
Placing

Prize

Top 3

Brompton C-Line Bicycle each

(with 3 times FREE servicing within 2 years by ROCBIKES PTE LTD)

4th to 53rd

SGD 20 worth of ROCBIKES PTE LTD in-store credits

Bonus Prize

3 X (SGD 160 worth ROCBIKES PTE LTD in-store credits + 1 Apple Share*)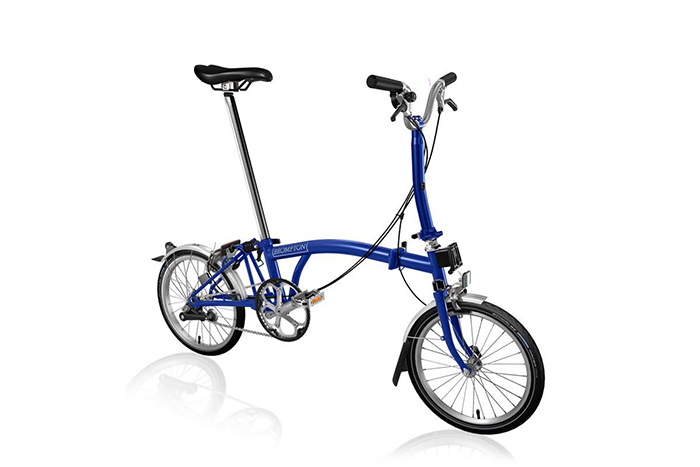 How to Participate?
Enjoy your cycling journey (solo or with your loved ones) around Singapore during the contest period

Take a photo of yourself and/or with your friends and/or loved ones, more importantly together with your bicycle(s) at any iconic spot in Singapore (where you deem so) and simply strike a pose or gesture that symbolises a Tiger. i.e., Gesturing your hand to make it seem like a Tiger's claw in action. You may also choose to simply feature your Tiger Trade App in that photo.
Sample Photo Entry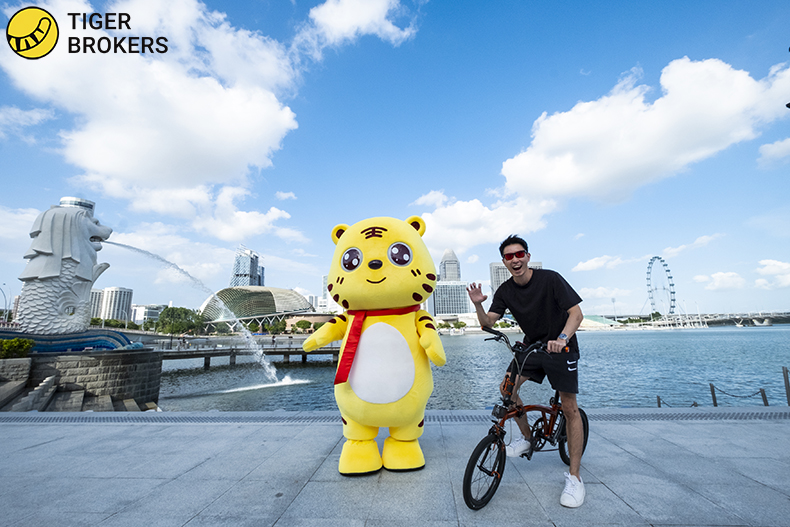 How to be eligible for the contest?
Follow Tiger Brokers (Singapore)'s Official Facebook page

Like the Facebook post on the campaign

Upload the photo taken in the comments section and comment "ROAR"

Only photos with the participant's Tiger pose, gesture and/or the featuring of the Tiger Trade App together with their bicycle will be considered as valid photo entries for this contest.

Giveaway ends on Monday, 3rd January 2022 at 16:00 SGT.

Winners must have a Tiger Brokers (Singapore) account with minimum SGD2,000 in the account. If you do not have a Tiger Brokers account, click on this link to register, and open your account now! https://www.tigerbrokers.com.sg/activity/forapp/welcome/?lang=en_US&invite=CYCLING1
How to win the prize?
The top 53 entries with the most likes will be chosen as the winners!
(Tips: Share with your family and friends now and invite them to like your photos to increase your chances of winning!)
*Terms and conditions apply.
*Please refer to the T&Cs of Apple share in the Welcome Gift Promotion
Visit our Facebook page HERE to participate now!
This advertisement has not been reviewed by the Monetary Authority of Singapore.
Any views shared with Prospective Clients ("Prospects") are suggestive in nature and on a sample basis only. This may also be predicated on assumptions that are made by Tiger Brokers (Singapore) Pte. Ltd. ("Tiger Brokers") about the Prospects' investment objectives and risk profile. Our suggestive and sample views extended to Prospects are not to be considered as recommendations made by Tiger Brokers. Suggestions provided are also based on information that may be shared by the Prospects, the accuracy and comprehensiveness of which Tiger Brokers is not in a position to verify.
Tiger Brokers may, to the extent permitted by law, participate or invest in other transactions with the issuer of the products referred to herein, perform services or solicit business from such issuers, and/or have a position or effect transactions in the securities or options thereof. The information herein is for recipient's information only and not an offer to sell or a solicitation to buy. Any date or price information is indicative only and may be changed without prior notice. All opinions expressed and facts referred to herein are subject to change without notice. The information herein was obtained and derived from sources that we believe are reliable, but while reasonable care has been taken to ensure that stated facts are accurate and opinions are fair and reasonable, Tiger Brokers does not represent that it is accurate or complete and it should not be relied upon as such. The information expressed herein is current and does not constitute an offer, recommendation or solicitation, nor does it constitute any prediction of likely future stock performance. Investment involves risk. The price of investment instruments can and do fluctuate, and any individual instrument may experience upward or downward movements, and under certain circumstances may even become valueless. Past performance is not a guarantee of future results. In preparing this information, we did not take into account the investment objectives, financial situation or particular needs of any person or affiliated companies. Before making an investment decision, you should speak to a financial adviser to consider whether this information is appropriate to your needs, objectives and circumstances. Tiger Brokers assumes no fiduciary responsibility or liability for any consequences financial or otherwise arising from trading in securities if opinions and information in this document may be relied upon.