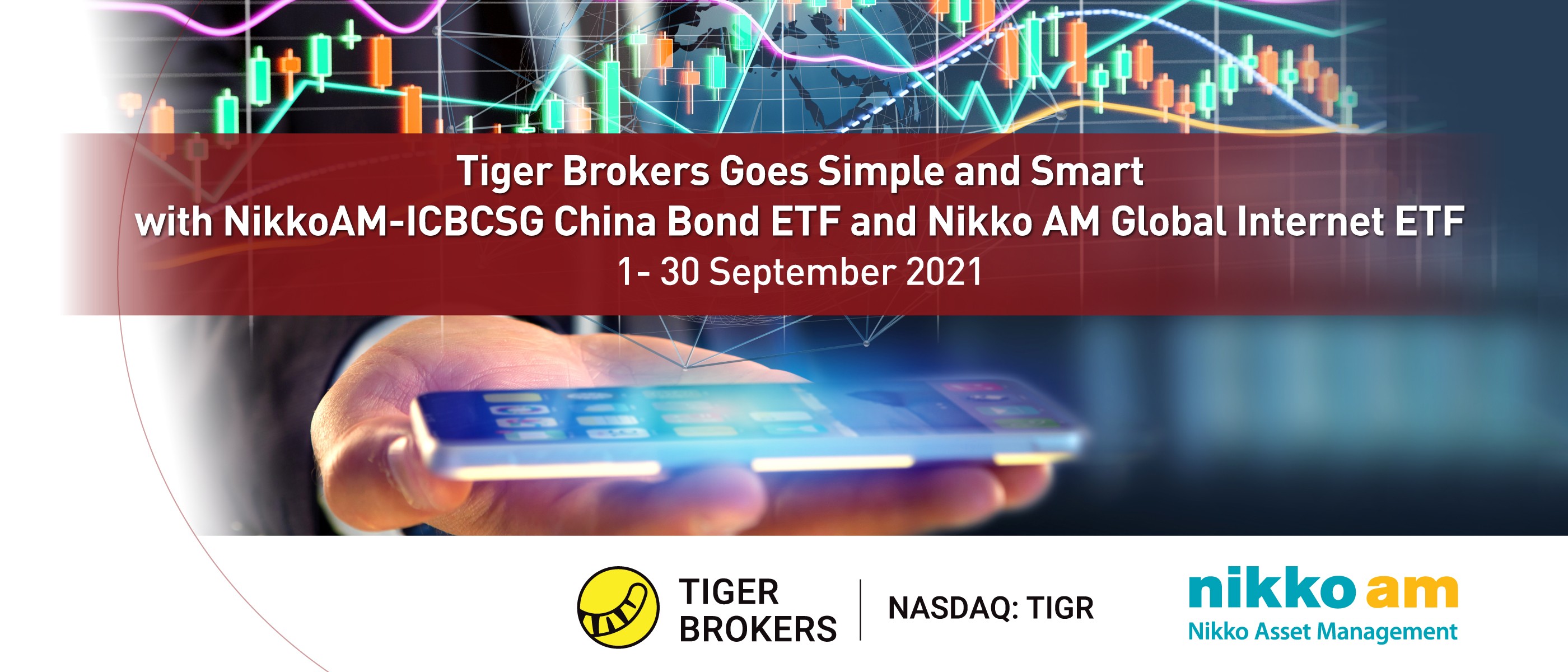 Commission Free Trades between 1-30 September 2021
An Exchange Traded Fund (ETF) is a type of security that tracks an index, sector, commodity, or other asset, and can be traded like a common stock. Nikko Asset Management endeavours to develop ETFs that are easy-to-use, inexpensive, and meet the needs of investors around the world.
Join us in the 2 webinars hosted by Tiger Brokers (Singapore) and Nikko Asset Management where attendees will be able to receive rewards* in each webinar by participating in the quiz held throughout the session.
Webinar details
Stand a chance to receive rewards by participating in the webinars below!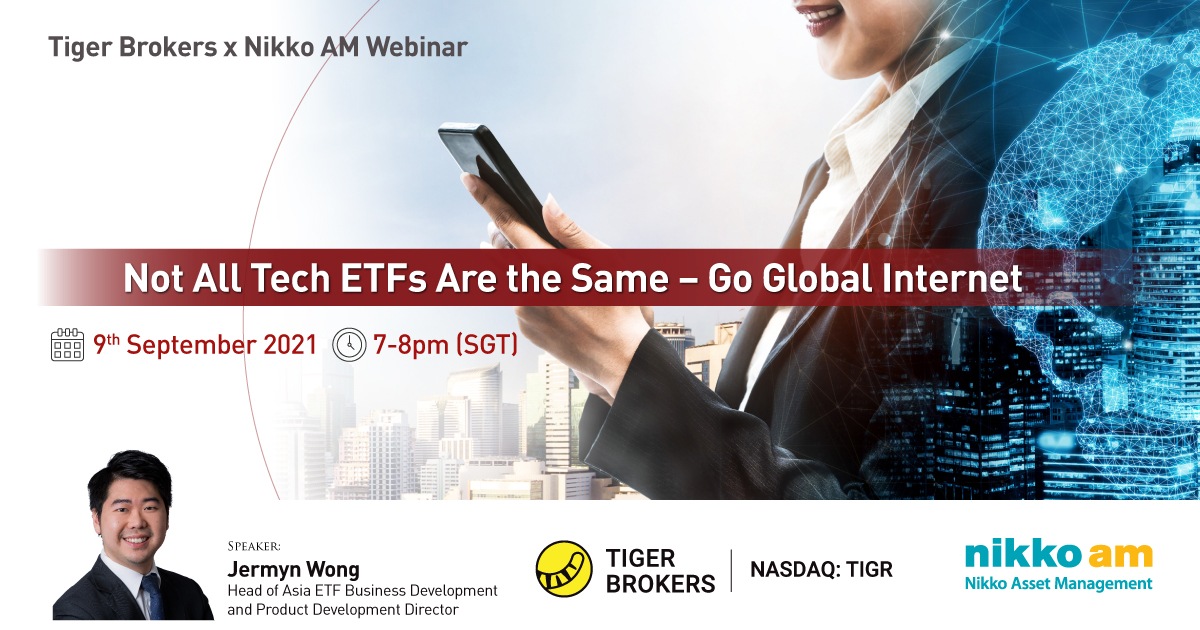 Register for the webinar here!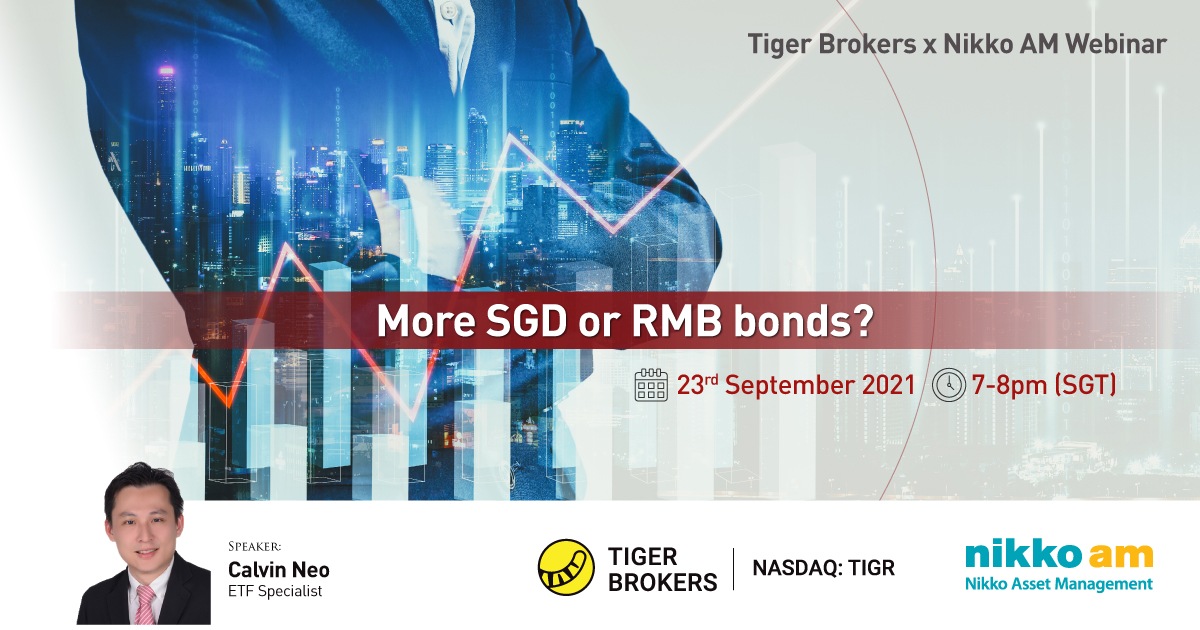 Register for the webinar here!
Promotion: Commission-free Trades from 1st to 30th September 2021 for selected Nikko Asset Management's Products
Tiger Brokers (Singapore) will be offering commission-free trades for Nikko Asset Management's products* from 1-30 September 2021.
List of ETFs eligible for the promotion*
Name

Country of Listing

Ticker Code

ABF Singapore index Fund

Singapore

A35

Nikko AM Singapore STI ETF

Singapore

G3B

NikkoAM-StraitsTrading Asia ex Japan REIT ETF

Singapore

CFA (SGD denominated)

COI (USD denominated)

Nikko AM SGD Investment Grade Corporate Bond ETF

Singapore

MBH

NikkoAM-ICBCSG China Bond ETF - RMB

Singapore

ZHD (USD denominated)

ZHY (CNY denominated)

NikkoAM-ICBCSG China Bond ETF - SGD

Singapore

ZHS

Nikko AM Global Internet ETF

Hong Kong

3072.HK (USD denominated)

9072.HK (HKD denominated)

NikkoAM E-Games Active ETF

Hong Kong

3091.HK (USD denominated)

9091.HK (HKD denominated)
*For more information on the quiz rewards and terms & conditions, click here.
This advertisement has not been reviewed by the Monetary Authority of Singapore.
Any views shared with Prospective Clients ("Prospects") are suggestive in nature and on a sample basis only. This may also be predicated on assumptions that are made by Tiger Brokers (Singapore) Pte Ltd about the Prospects' investment objectives and risk profile. Our suggestive and sample views extended to Prospects are not to be considered as recommendations made by the Company. Suggestions provided are also based on information that may be shared by the Prospects, the accuracy and comprehensiveness of which Tiger Brokers is not in a position to verify.
Tiger Brokers (Singapore) Pte Ltd (herein "Tiger Brokers") may, to the extent permitted by law, participate or invest in other transactions with the issuer of the products referred to herein, perform services or solicit business from such issuers, and/or have a position or effect transactions in the securities or options thereof. The information herein is for recipient's information only and not an offer to sell or a solicitation to buy. Any date or price information is indicative only and may be changed without prior notice. All opinions expressed and facts referred to herein are subject to change without notice. The information herein was obtained and derived from sources that we believe are reliable, but while reasonable care has been taken to ensure that stated facts are accurate and opinions are fair and reasonable, Tiger Brokers does not represent that it is accurate or complete and it should not be relied upon as such. The information expressed herein is current and does not constitute an offer, recommendation or solicitation, nor does it constitute any prediction of likely future stock performance. Investment involves risk. The price of investment instruments can and do fluctuate, and any individual instrument may experience upward or downward movements, and under certain circumstances may even become valueless. Past performance is not a guarantee of future results. In preparing this information, we did not take into account the investment objectives, financial situation or particular needs of any person or affiliated companies. Before making an investment decision, you should speak to a financial adviser to consider whether this information is appropriate to your needs, objectives and circumstances. Tiger Brokers assumes no fiduciary responsibility or liability for any consequences financial or otherwise arising from trading in securities if opinions and information in this document may be relied upon.