Account Funding - Overview
1. Requirement on deposit amount: Tiger Brokers does not set any minimum or maximum deposit amount requirement. If the initial deposit amount reaches an amount specified in a particular rule of some activity, there will be giveaways. For more details, you may refer to the promotion pages or contact our client service.
2. When you open an account, if you choose to open a margin account and succeed, then the margin trading function will be activated instantly regardless of the initial deposit amount.
3. Tiger Brokers UEN (also named Corporate Identification Number / Company Registration Number / etc. in some banks' webpages): 201810449W.
4. Tiger currently accepts the following methods of deposit: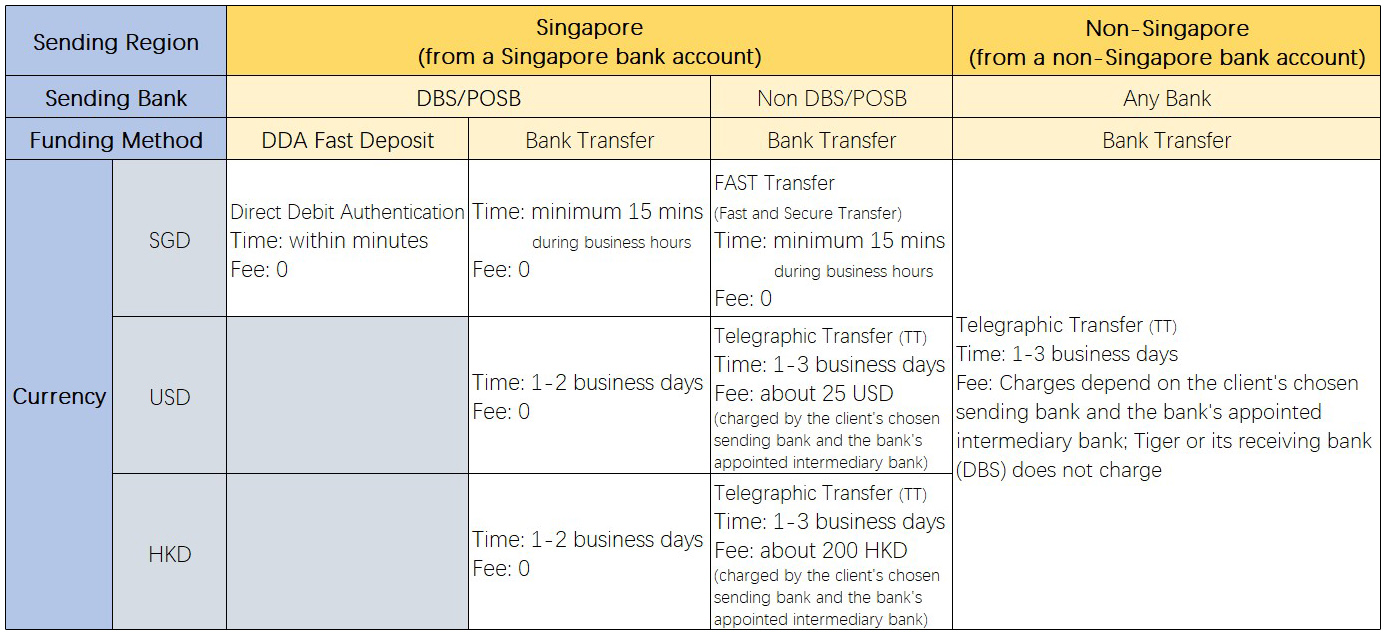 Notes:
1. Singapore DBS Bank is the custodian bank for Tiger clients' funds.
2. The time depends on the processing bank(s). The minimum time for funds to arrive can be within the same business day. The transfer of any of the above currencies from DBS/POSB or the transfer of SGD from non-DBS/POSB takes 15 minutes during business hours. If the transfer is initiated during non-business hours, it will arrive on the next business day.
3. Please transfer funds from a bank account in the same name as your Tiger Account. Tiger currently does not accept any funds transferred from/by other persons' bank accounts, joint bank accounts, third-party payment platforms, Google Pay, checks, PayLah or others not mentioned in the table above.
4. Please follow the deposit instructions. Otherwise, it may take longer to deposit funds than stated in the table above.
5. Please transfer in the methods shown in the table above. Otherwise, the refund process may take approximately 4 weeks.
6. Tiger or its receiving bank (DBS) does not charge.
Account Funding - Procedure

Funding through Tiger's website: Login to Official Website > My Account > Deposit. Select the currency and bank, then follow the instructions.
Funding through Tiger Trade APP: APP > Me > Tiger Account > Deposit. Select the currency and bank, then follow the instructions.
2. Submit Deposit Notification
After the fund transfer, please click "Funds remitted. Inform Tiger to check" and fill in the deposit notification. If you deposit funds for the first time, the deposit status will be updated via the Tiger Trade APP.
Submitting the deposit notification is to facilitate the matching of deposits and minimise the time cost for Tiger account funding, which is not mandatory. The screenshot of the transaction uploaded in the deposit notification should include the transaction number, client name (in the reference), Tiger account number (in the reference) and the transaction amount, except for which, you may block out any information you consider sensitive as you wish.
FAQs
1. Can Tiger Account hold funds in multiple currencies at the same time?
→ Yes.