Daily Leverage Certificates (DLCs) are listed and traded on the SGX Securities market, allowing investors to gain up to 7x leverage exposure to an underlying asset such as an equity index or a single stock. DLCs replicate the daily percentage return of the underlying asset versus its previous day closing level with a fixed leverage factor and allow investors to take both Long or Short position. Investors can choose from over 200 DLCs listed covering both Singapore and Hong Kong indices and stocks.
For more information on DLC click here.
We are proud to be one of the exclusive brokers to support the SG Active Trading Tournament 2021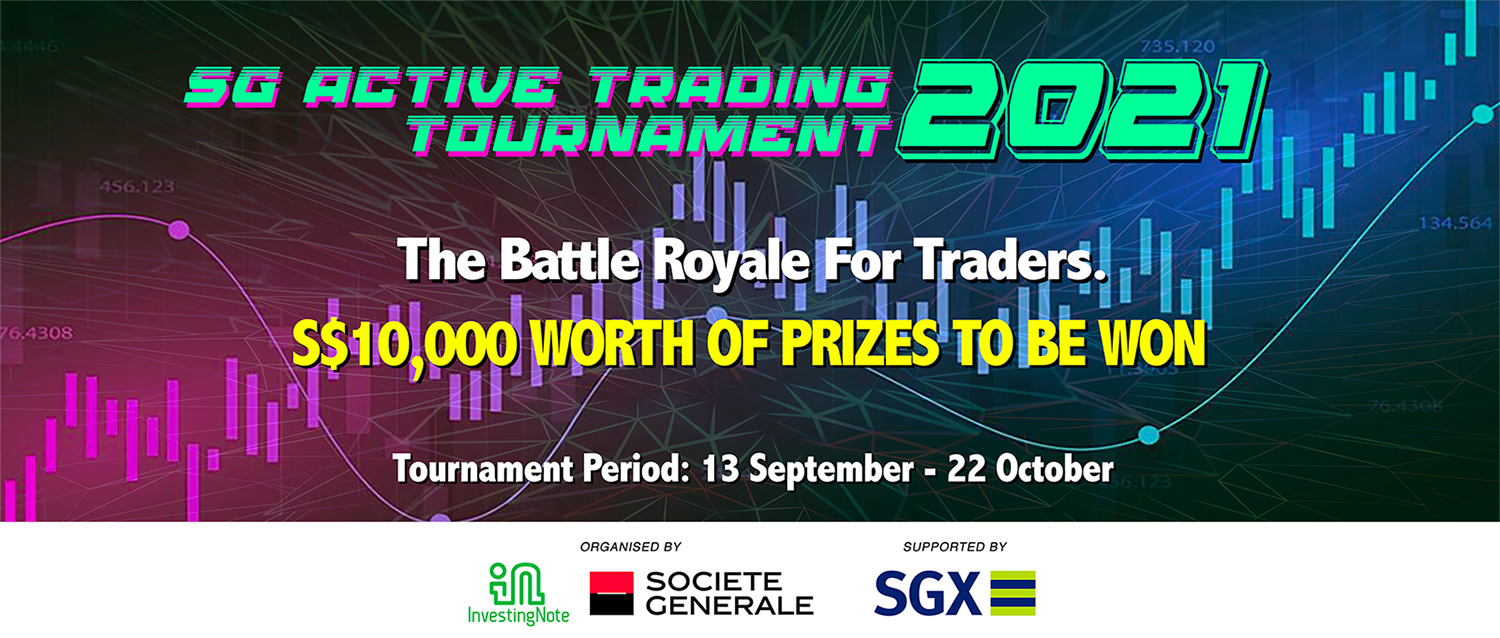 For more information on the Tournament click here.
Be rewarded as you trade SGX Listed DLC
| | |
| --- | --- |
| Prize Category | Rewards |
| Weekly Prize from 13th September 2021 to 22nd October 2021 | Top 5 Participants – S$100 Stock Voucher Each Following 10 Participants – S$50 Stock Voucher Each |
| Grand Final Winners | Top 3 Participants – S$500, S$300 and S$200 Stock Vouchers each to the First, Second and Third place respectively. |
| New Accounts who trade DLC from 13th September 2021 to 22nd October 2021 | Limited to first 300 Eligible users to receive S$10 Stock Vouchers each |
Terms & conditions apply*
Commission Free Trading for SGX listed DLC
All Clients will receive a commission free pass for SGX listed DLC trading* on Tiger Trade platform, valid from 13th September to 22nd October 2021 (both dates inclusive).
Clients are to activate the pass on their Tiger Trade app in order to enjoy the commission free trading for DLC listed on SGX.
Click here for the full list of SGX listed DLC.
*For more information on the rewards and terms & conditions, click here.
15th September 2021 - Market commentary webinar
Delta COVID cases surge. SGX gets approval for SPAC listings. MAS clamps down on Binance. China's 'common prosperity' drive further impacts Chinese companies. Federal Reserve starts tapering.
What's the latest developments in the markets that you as an investor, should definitely know of?
Join us in this upcoming webinar where we get a sense of what's happening in the markets right now and where the trends are.
Register Here!
This advertisement has not been reviewed by the Monetary Authority of Singapore.
Any views shared with Prospective Clients ("Prospects") are suggestive in nature and on a sample basis only. This may also be predicated on assumptions that are made by Tiger Brokers (Singapore) Pte Ltd about the Prospects' investment objectives and risk profile. Our suggestive and sample views extended to Prospects are not to be considered as recommendations made by the Company. Suggestions provided are also based on information that may be shared by the Prospects, the accuracy and comprehensiveness of which Tiger Brokers is not in a position to verify.
Tiger Brokers (Singapore) Pte Ltd (herein "Tiger Brokers") may, to the extent permitted by law, participate or invest in other transactions with the issuer of the products referred to herein, perform services or solicit business from such issuers, and/or have a position or effect transactions in the securities or options thereof. The information herein is for recipient's information only and not an offer to sell or a solicitation to buy. Any date or price information is indicative only and may be changed without prior notice. All opinions expressed and facts referred to herein are subject to change without notice. The information herein was obtained and derived from sources that we believe are reliable, but while reasonable care has been taken to ensure that stated facts are accurate and opinions are fair and reasonable, Tiger Brokers does not represent that it is accurate or complete and it should not be relied upon as such. The information expressed herein is current and does not constitute an offer, recommendation or solicitation, nor does it constitute any prediction of likely future stock performance. Investment involves risk. The price of investment instruments can and do fluctuate, and any individual instrument may experience upward or downward movements, and under certain circumstances may even become valueless. Past performance is not a guarantee of future results. In preparing this information, we did not take into account the investment objectives, financial situation or particular needs of any person or affiliated companies. Before making an investment decision, you should speak to a financial adviser to consider whether this information is appropriate to your needs, objectives and circumstances. Tiger Brokers assumes no fiduciary responsibility or liability for any consequences financial or otherwise arising from trading in securities if opinions and information in this document may be relied upon.