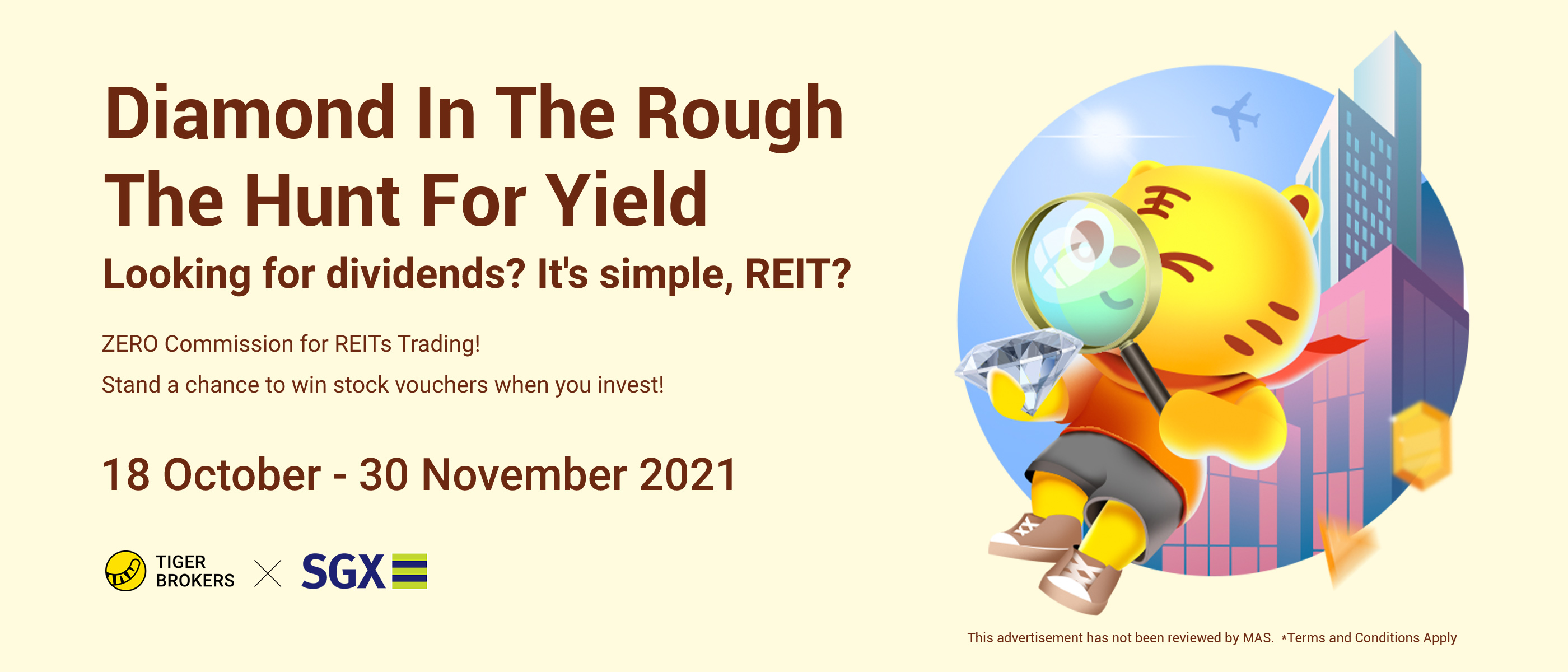 Diamond In The Rough
The Hunt For Yield
REITs invest in real estate properties and distribute revenues generated from these assets (primarily rental income) at regular intervals to REIT holders. REITs that are listed in SGX can be traded like a common stock.
Webinar details
Stand a chance to win an iPad by participating in the webinars below!
There are 2x iPad (9th generation) WIFI 256GB worth SGD 1,458 to be won!
Join us in the webinars hosted by Tiger Brokers (Singapore) and some of the hottest SGX listed REITs where attendees will stand a chance to win an iPad by participating in the quiz held throughout the session. The more webinars you attend, the higher the chances of winning!
The webinars will be hosted on the Tiger Community, to participate in the webinar, please:
1. Create a FREE Tiger Community account at https://www.laohu8.com.
2. Click on the webinar link below on the specific date and time.
OR
Login to your Tiger Trade mobile app -> Community -> Live.
Webinar 1: SGX REITs Week Insights - Cromwell European REIT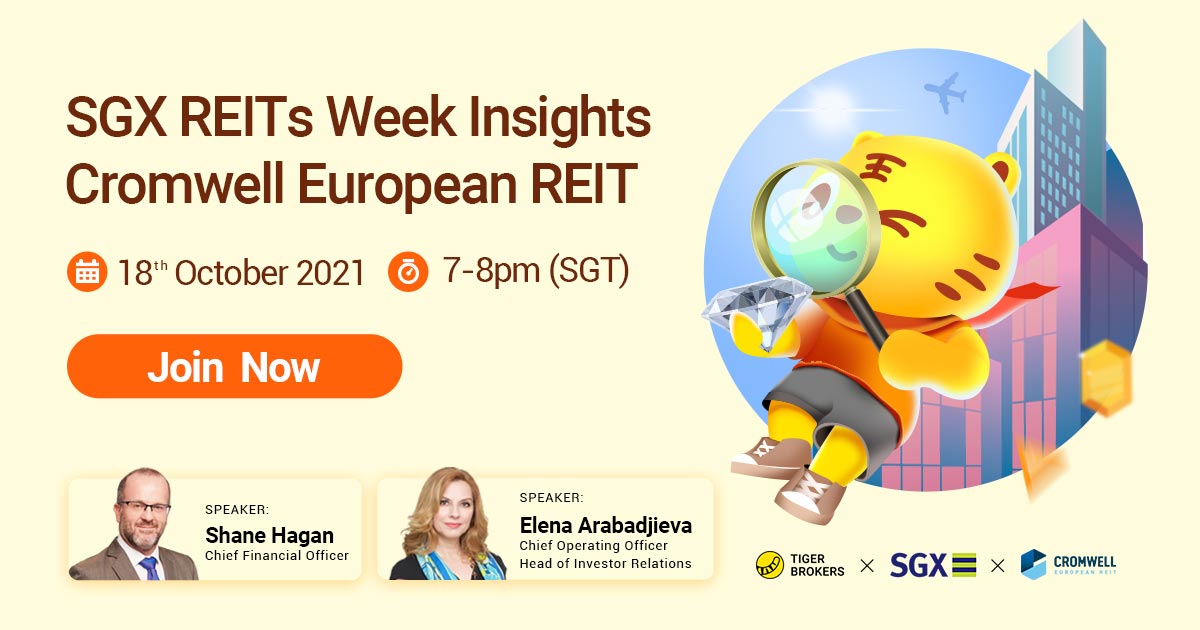 Webinar 2: SGX REITs Week Insights - Lendlease Global Commercial REIT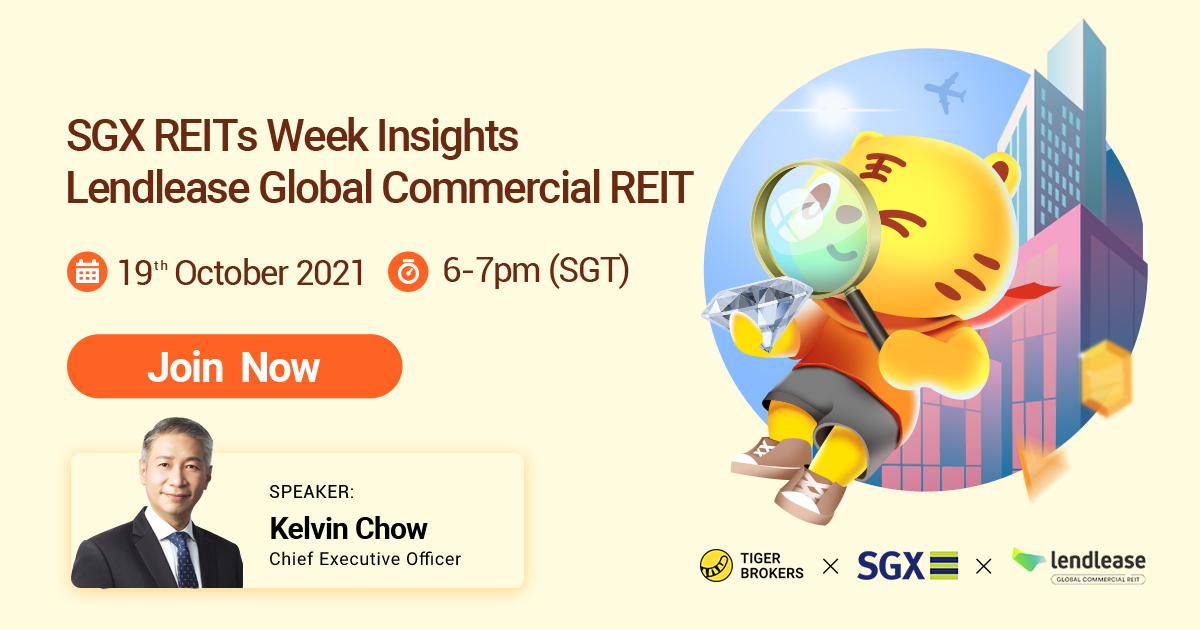 Webinar 3: SGX REITs Week Insights - OUE Commercial REIT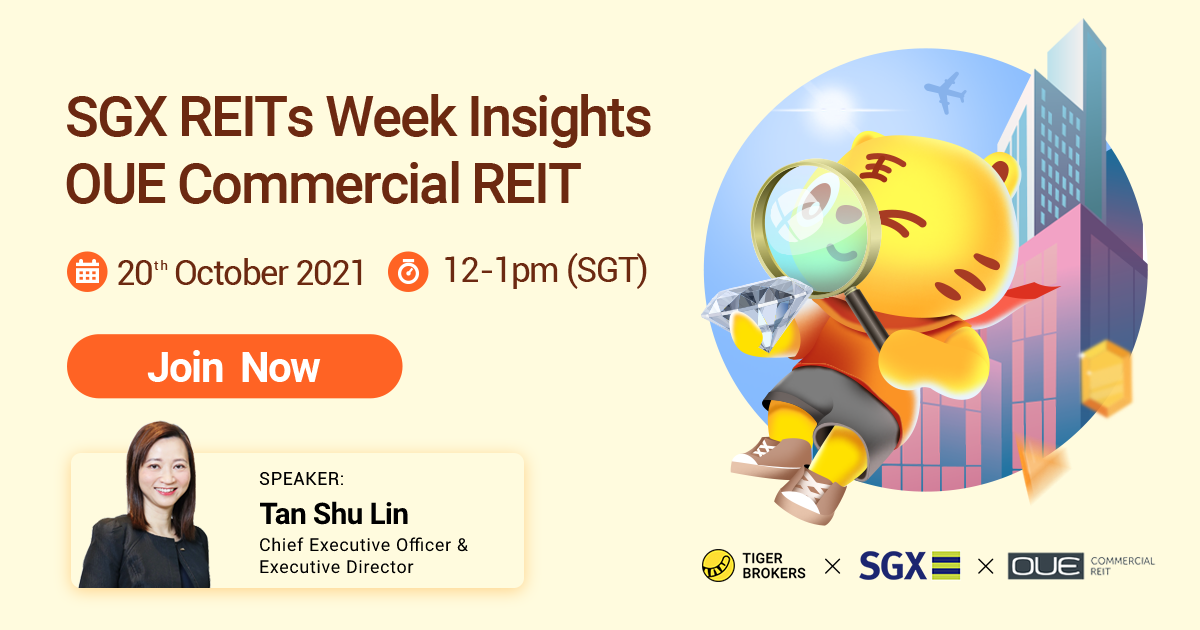 Webinar 4: SGX REITs Week Insights - BHG Retail REIT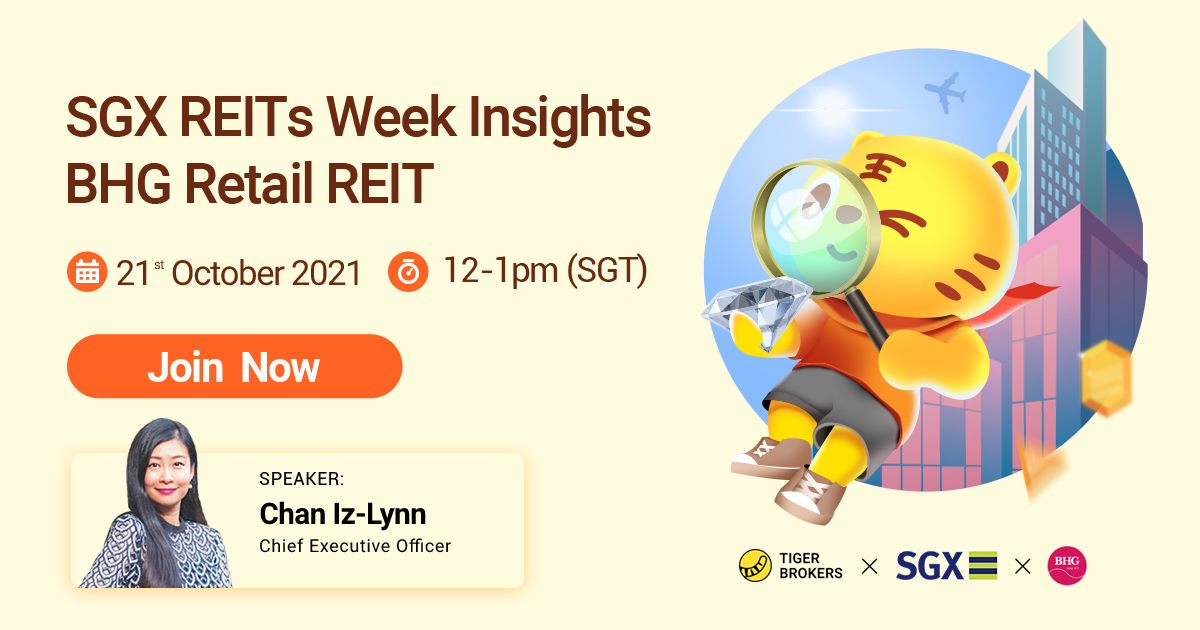 Panel Discussion: Why are REITs still relevant in this current market?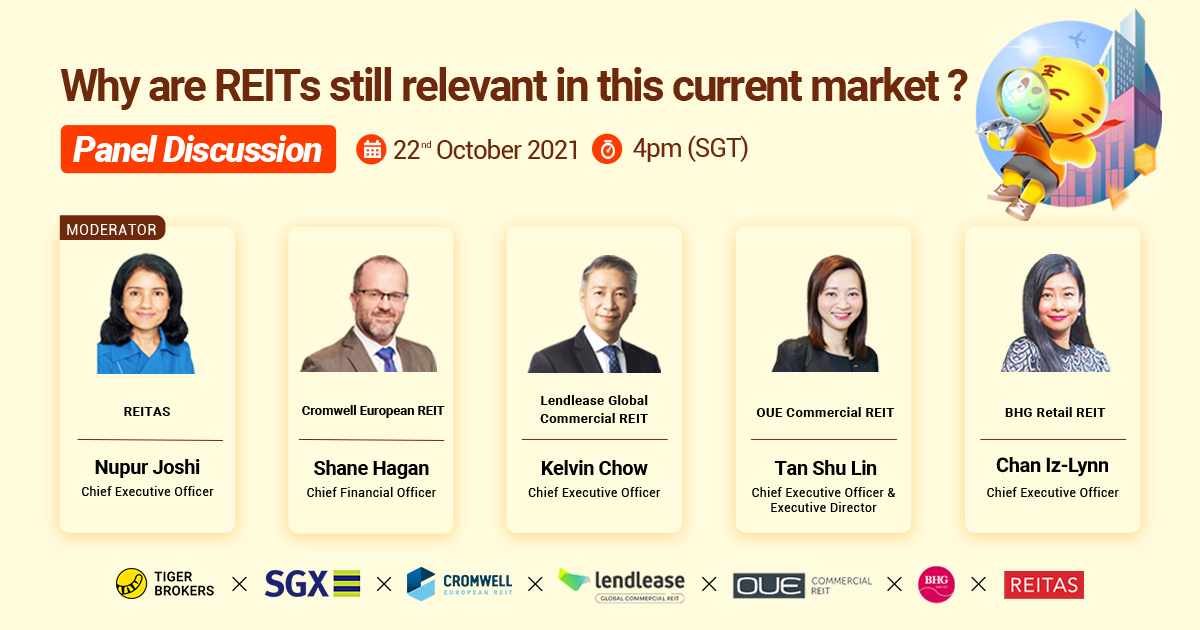 ZERO Commission for REITs trading from 18 October 2021 to 30 November 2021 *
Below are the REITs counters that enjoy ZERO commission trade from 18 October 2021 to 30 November 2021
| | | | |
| --- | --- | --- | --- |
| Security Full Name | Counter Trading Code | Security Full Name | Counter Trading Code |
| AIMS APAC REIT | O5RU | IREIT GLOBAL | UD1U |
| ARA LOGOS LOGISTICS TRUST | K2LU | KEPPEL DC REIT | AJBU |
| ARA US HOSPITALITY TRUST | XZL | KEPPEL PACIFIC OAK US REIT | CMOU |
| ASCENDAS INDIA TRUST | CY6U | KEPPEL REIT | K71U |
| ASCENDAS REAL ESTATE INV TRUST | A17U | LENDLEASE GLOBAL COMMERCIAL REIT | JYEU |
| ASCOTT RESIDENCE TRUST | HMN | LIPPO MALLS INDO RETAIL TRUST | D5IU |
| BHG RETAIL REIT | BMGU | MANULIFE US REIT | BTOU |
| CAPITALAND CHINA TRUST | AU8U | MAPLETREE COMMERCIAL TRUST | N2IU |
| CAPITALAND INTEGRATED COMM TR | C38U | MAPLETREE INDUSTRIAL TRUST | ME8U |
| CDL HOSPITALITY TRUSTS | J85 | MAPLETREE LOGISTICS TRUST | M44U |
| CROMWELL EUROPEAN REIT | CWBU | MAPLETREE NORTH ASIA COMM TR | RW0U |
| DASIN RETAIL TRUST | CEDU | OUE COMMERCIAL REIT | TS0U |
| EAGLE HOSPITALITY TRUST | LIW | PARKWAYLIFE REIT | C2PU |
| EC WORLD REIT | BWCU | PRIME US REIT | OXMU |
| ELITE COMMERCIAL REIT | MXNU | RHT HEALTH TRUST | RF1U |
| ESR-REIT | J91U | SABANA SHARI'AH COMPLIANT REIT | M1GU |
| FAR EAST HOSPITALITY TRUST | Q5T | SASSEUR REIT | CRPU |
| FIRST REAL ESTATE INV TRUST | AW9U | SPH REIT | SK6U |
| FRASERS CENTREPOINT TRUST | J69U | STARHILL GLOBAL REIT | P40U |
| FRASERS HOSPITALITY TRUST | ACV | SUNTEC REAL ESTATE INV TRUST | T82U |
| FRASERS LOGISTICS & COMMERCIAL TRUST | BUOU | UNITED HAMPSHIRE US REIT | ODBU |
Stand a chance to win stock vouchers when you invest into REITs from 18 October 2021 to 31 October 2021
Traders who make a new minimum investment of SGD 5,000 or SGD 10,000 into SGX listed REITs during this campaign period (18 October 2021 to 31 October 2021) will stand a chance to win stock vouchers or Tiger Coin.
| | |
| --- | --- |
| Investment Amount | Lucky Draw Prize |
| SGD 5,000 to SGD 9,999.99 | 35 X SGD 50 Stock Vouchers* or 1,000 Tiger Coin |
| SGD 10,000 and above | 35 X SGD 100 Stock Vouchers* or 2,000 Tiger Coin |
*The stock voucher will be split into two SGD 25 or two SGD 50 and lucky winners will be entitled to the vouchers if the full REITs position are maintained on 31 October 2021 and 30 November 2021. Stock vouchers will be forfeited if you liquidate your REITs position before 30 November 2021.
*For more information on the campaign and terms & conditions, click here.
This advertisement has not been reviewed by the Monetary Authority of Singapore.
Any views shared with Prospective Clients ("Prospects") are suggestive in nature and on a sample basis only. This may also be predicated on assumptions that are made by Tiger Brokers (Singapore) Pte Ltd about the Prospects' investment objectives and risk profile. Our suggestive and sample views extended to Prospects are not to be considered as recommendations made by the Company. Suggestions provided are also based on information that may be shared by the Prospects, the accuracy and comprehensiveness of which Tiger Brokers is not in a position to verify.
Tiger Brokers (Singapore) Pte Ltd (herein "Tiger Brokers") may, to the extent permitted by law, participate or invest in other transactions with the issuer of the products referred to herein, perform services or solicit business from such issuers, and/or have a position or effect transactions in the securities or options thereof. The information herein is for recipient's information only and not an offer to sell or a solicitation to buy. Any date or price information is indicative only and may be changed without prior notice. All opinions expressed and facts referred to herein are subject to change without notice. The information herein was obtained and derived from sources that we believe are reliable, but while reasonable care has been taken to ensure that stated facts are accurate and opinions are fair and reasonable, Tiger Brokers does not represent that it is accurate or complete and it should not be relied upon as such. The information expressed herein is current and does not constitute an offer, recommendation or solicitation, nor does it constitute any prediction of likely future stock performance. Investment involves risk. The price of investment instruments can and do fluctuate, and any individual instrument may experience upward or downward movements, and under certain circumstances may even become valueless. Past performance is not a guarantee of future results. In preparing this information, we did not take into account the investment objectives, financial situation or particular needs of any person or affiliated companies. Before making an investment decision, you should speak to a financial adviser to consider whether this information is appropriate to your needs, objectives and circumstances. Tiger Brokers assumes no fiduciary responsibility or liability for any consequences financial or otherwise arising from trading in securities if opinions and information in this document may be relied upon.